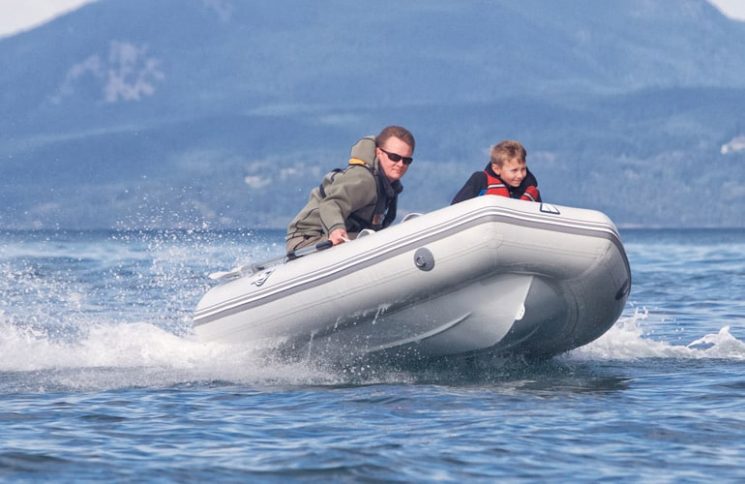 An inflatable boat is not strictly limited to rescue maneuvers, reaching a specific spot for scuba diving or even accessing your sailboat anchored far from the shore. In fact, an inflatable boat is very versatile and can be used for much more than you think.
For instance, fishing…
Fishing? Of course!
Just choose an inflatable boat with enough space to carry all your fishing gear, canes and everything else essential to your trip. Pay attention to the diameter of the tubes (the inflatable belt of the boat) which may limit the internal size of the vessel.
Among the other advantages, let's underline the boat's stability, the ability to attach a small outboard motor to it for smooth movements that won't scare the fishes, and its ease of transport. In terms of budget, the inflatable boat can be more advantageous than buying a large boat. It is also much easier to carry!
An inflatable boat is also ideal for family excursions. Both fun and safe, this type of boat stands out with its stability on the water, thanks in part to its center of gravity. However, you will have to pick a boat depending on the number of people you intend to invite on board. It's a matter of comfort, but above all security.
Regardless of the type of activity you wish to practice, maintenance must not be ignored. For example, rinsing your boat in clean water will always keep it clean after use. At the same time, it is also a good way to avoid the spread of blue-green algae. Once the inflatable boat is dry, it can be deflated (deflated) and stowed in a suitable bag.
For more information on inflatable boats, a visit to Repentigny's Aqua Services can change everything! We have all the best brands on the market : Achilles, Apex, Quicksilver, Inmar and Suzumar!